European Champion
TINTIN PRINCE DU SIAM

Thaï ,Seal Tabby point , DOB the 10th August 2002 .

Sire : Shabalou des Atréides d'Arrakis, Thaï seal tabby point
Dam : O'Lavande des Atréides d'Arrakis, Thaï seal point

Fearless, eternal child, Tintin is very dynamic and very affectionate.
He is rather active and a little bit provocative.
His favourite game is to charge at the other male to play but those do not still appreciate this.

Then follows a rather fascinating track race.
Tintin also has highly-rated sound tenderness, he appreciates kisses. Furthermore he knows how to show himself very paternal when we present him his kittens.
We gave him the nickname: " my TiTintin "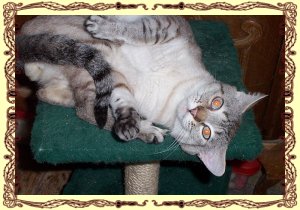 website designed by Domino