European Champion
VERYTHAI PRINCESSE DU SIAM

Thaï, blue point, DOB 18th June 2004.

Sire : MOWGLY of the Blue Life, thaï blue point
Dam : SAPHIRE princesse du Siam, thaï seal point.

VeryThaï and her 2 sisters were the first girls of de Saphire inside a litter of 6 kittens.
She was the only blue point female.





VeryThaï likes to play with other cats, she is not a dominant, she knows what she wants. She, her mopther Saphire and Anaïs are very good friends. She sleep together and play together . It is a really happy to see them in total harmony.
She has a lot of presence, it is the completely stable kitten , that shows a lot of temperament.
VeryThaï has so a lot of assurance and imposing presence.Her attitudes are sometimes those of an older kitten. But, then, come back fast from moments of games which do not deceive.

She is no nickname at this time , she is only my " small girl " . We name her also " Very " .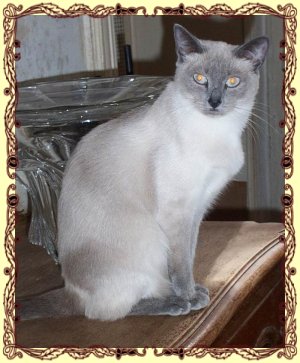 website designed by Domino